India is synonymous with Diwali. The energy in the air is impalpable. However, Diwali's wings spread way beyond its roots in India. Diwali celebrations are known across the world amongst many large and small countries and communities. Today, we will explore these areas and their unique Indian heritage.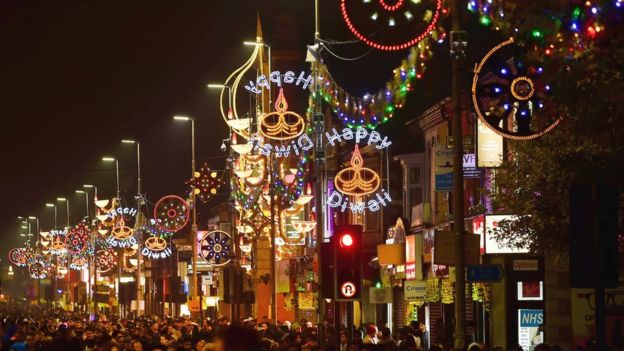 (BBC)
Leicester, England
Leicester holds the silver medal for the biggest Diwali celebration around the world. Leicester is a mid-sized city in England's East Midlands with a population a little above 300,000. Indians have made a home in this diverse city. A little above a quarter of the population is of Indian origin while the most spoken languages after English are Gujarati and Punjabi.
Leicester is also home to the "Golden Mile", a stretch of road that is the city's Little India. Up to 40,000 people attend the switch-on of the lights at the Golden Mile to mark the beginning of the Diwali festival. The festival lasts for around two weeks and has become a cornerstone for Europe's Diwali celebrations. The city takes pride in their Diwali festival and has even flown Rangoli artists all the way from India.
________________________________________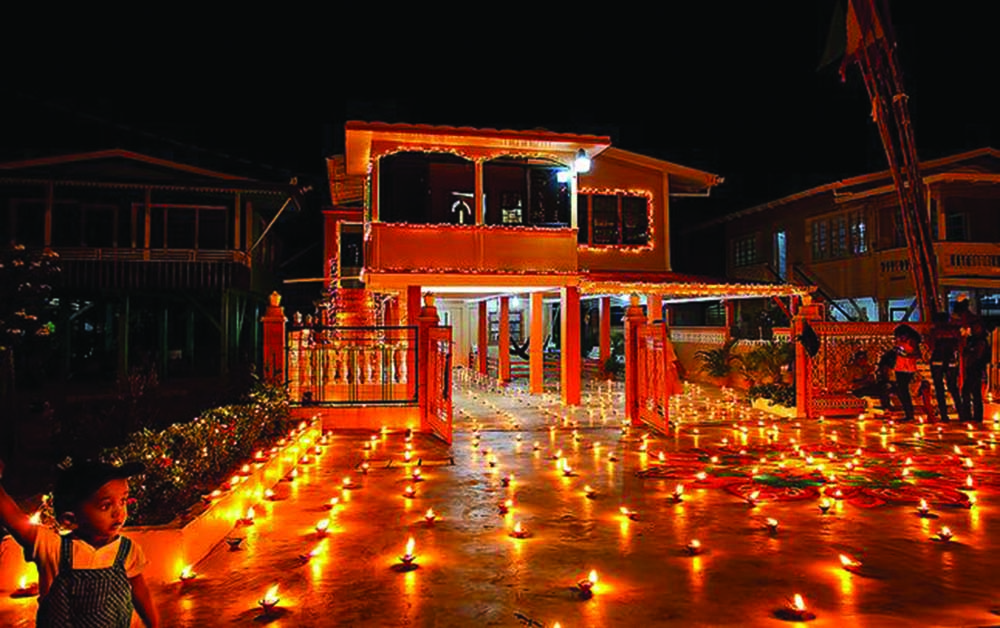 Guyana
Guyana is a country on South America's northern coast and holds a population of around 8 million. Diwali is a national holiday in Guyana and has been celebrated since 1853. Guyana is known for its energetic displays during the festival of Diwali. Beyond the traditional Diwali celebrations, the people of Guyana holds celebratory motorcades in several cities. The people deck out their vehicles with lights and decorations and drive the cities in long parades attended by thousands.
The Indians of Guyana have a very interesting backstory as they were initially recruited as indentured servants and faced harsh conditions upon their arrivals. As of the 2012 census, Indians make up 40% of Guyana's population. Today, Indians celebrate "Indian Arrival Day" on May 5th to commemorate the first Indians who arrived in Guyana to work on sugar plantations.
________________________________________
Triolet, Mauritius
Triolet is a village of approximately 24,000 people located in the northern part of Mauritius, an Indian Ocean island nation that is known for its beautiful landscapes and geographic diversity. The village of Triolet transforms during Diwali and a small little village shines a beacon of light that is becoming increasingly visible through the world.
Mauritius's population is around 60% of Indian-heritage of which 80% follow Hinduism. Most Mauritian Indians are from the Bihar / Northern India area. Mauritius also celebrates Indian Arrival Day. It is celebrated on November 2nd to commemorate the arrival of Indian laborers.
________________________________________
(International Business Times)
Trinidad
Diwali was originally contained to the local villages and Hindi households in Trinidad and Tobago. It was not as ubiquitously celebrated as the other major religious holidays such as Christmas until a few passionate individuals decided to form a council to spread the message of Diwali.
Divali Nagar (City of Lights) was born. This Caribbean flavored Diwali celebration is now an occasion to unify a nation that consists of Hindus, Muslims, Christians, Indo-Trinidadians, and Afro-Trinidadians. The festival day is regarded as a national holiday.
Trinidad and Tobago's Indians arrived as indentured servants in 1845 and now comprise 37% of the country's population. They celebrate Indian Arrival Day on November 2nd.
________________________________________
Singapore, Malaysia
Indians comprise only 8% of Singapore's population but are known for their proud heritage. Singapore has its own Little India which is legally preserved by the government as a historic site. Singapore calls Diwali by a more traditional name, Deepavali. (Learn more about the different names of Diwali)
During Deepavali, Hindus across the city decorate their homes with brightly colored pictures created out of flour, rice and flower petals. Rangoli artworks shade the city as people of various religions and ethnicities come together to attend the cultural events during this festive period.
________________________________________
Australia
The cities of Melbourne and Sydney are the focal points for Indian-Australians. Pockets of Indians are spread across these two cities. The Federation Square in Melbourne takes center-stage during Diwali where the largest of the Australian celebrations of Diwali take place.
Diwali is not an official government holiday in Australia but it is slowly making its presence felt as the Indian population grows in Australia. Currently, Indians only comprise 72% of Australia's population, but are the fastest rising minority group in Australia.
Is there a country we didn't recognize? Let us know in the comments or on our Facebook page!